IKE took part in China import and export fair
2018-10-15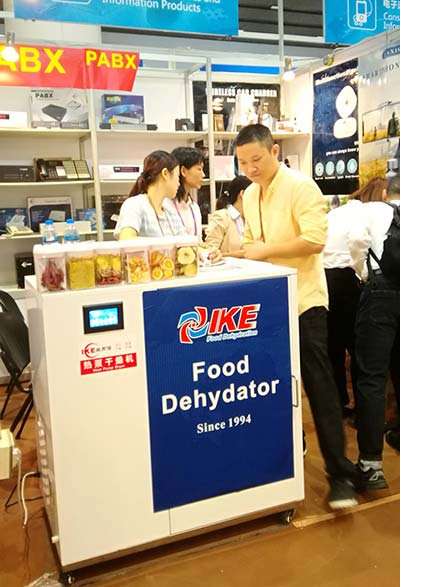 From Oct. 15 to Oct. 19, Guangdong IKE industrial co., Ltd took part in China import and export fair (Canton Fair for short), which is one of the important exhibitions in the industry. The booth number is Hall NO: 3.1, stand NO. J32. The Canton Fair was held in No.382, Yuejiang Zhong Road, Guangzhou, China. It is the largest exhibition up till now this year.
IKE prepared a lot for the Canton Fair in order to attract customers coming to the exhibition. Our company brought our high-quality heat pump energy-saving food dehydrator to the exhibition. We are happy to see that our food dehydrator attracted a lot of attention from customers. This makes us more confident to provide better services to our customers. We got a great opportunity to exchange with customers by taking part in the Canton Fair. In the future, if we have opportunities to take part in some other exhibitions we hope we can have more opportunities to communicate with customers. IKE has been one of the industrial food dehydrator manufacturer leaders due to providing high-quality food dehydrators to clients and it is very possible for us to achieve a greater advancement in the future. IKE offers an exceptional quality range of industrial food dehydrators. We displayed high-quality heat pump energy-saving food dehydrators in the exhibition. IKE food dehydrators exhibited in the exhibition are outstanding among similar products. They have features like energy-saving. Their advantages include using a completely sealed system. Customers in the exhibition thought highly of the industrial food dehydrators we displayed. We got a number of orders in the exhibition. The food dehydrators we displayed in the exhibition are very popular among customers and the number of orders of our displayed food dehydrators reached average per year. It is a great pleasure for IKE to take part in this exhibition because we benefit a lot from it. In the coming years, our company will expand the business further. hopes we can establish business relationships with more customers in the future.
Contact us now to learn more about us!