Bombax Flower has edible and medicinal value for clearing away heat and dampness. When living in a hot and humid place, making tea and making soup with these flowers is beneficial to health. The IKE Bombax Flower dehydrator dehydrates the Bombax Flower at low and medium temperatures for better drying of the Bombax Flower.
How to dehydrate Bombax Flower
by IKE food dehydrator
Ingredients: Bombax Flower
Directions:
1. Removing any decayed and bruised flowers before drying.
2. Load the fresh flowers on the trays and put them into the IKE drying room.
3. Select fixed-time mode, setting the temperature to 60 ℃ with 5% humidity.
4. After 10-12 hours the Bombax Flower will be finished drying.
The dried Bombax Flower will retain moisture when they are in direct contact with the air, so a sealed package is required. It is better to preserve the flower's color and flavor with vacuum seal bags.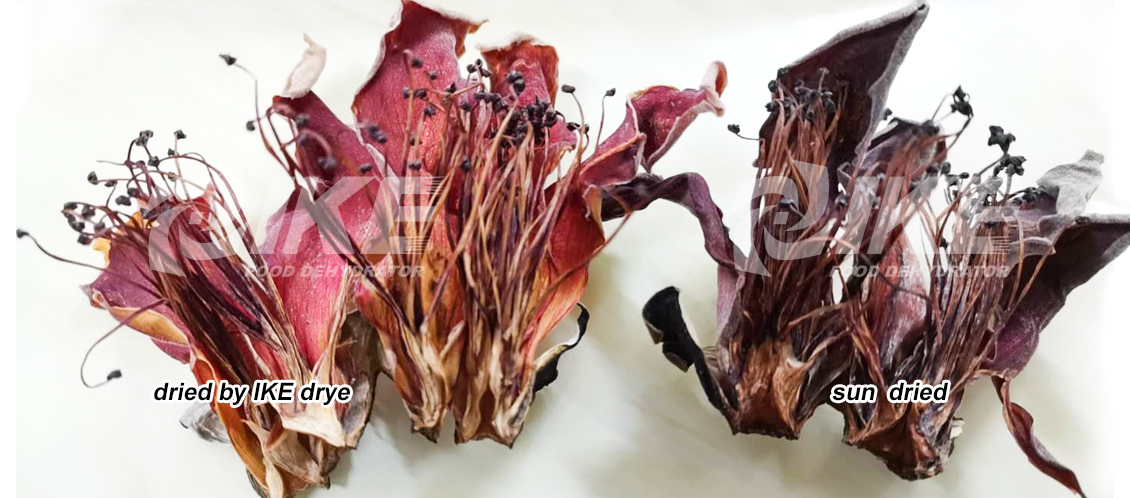 IKE Bombax Flower Dehydrator - Click to Choose
Capacity: 20~100kg per batch
Machine Dimension (L*W*H): 1180*680*1800MM
Power supply: 220V, 50Hz/60Hz
Drying Temperature: 20℃~80℃
Commercial WRH-100T Bombax Flower dehydrator just needs to connect the power to use, is the easiest operation heat pump Bombax Flower dehydrator. WRH-100T Bombax Flower dehydrator used heat pump technology for energy saving. Drying takes place in a closed system, which makes your Bombax Flower clean and sanitary. View Equipment →
Capacity: 200~2500kg per batch
Power supply: 220V/380V, 50Hz/60Hz
Drying Temperature: 25℃~80℃
IKE industrial Bombax Flower drying room consists of the main machine IKE embedded dryer and the insulated drying room as a whole unit. Both stainless steel trays and plastic trays are available with different cost options. It can be loaded into containers and delivered as a completed set. When you receive the Bombax Flower drying room, just connect to the power supply to use it. View Equipment →
Capacity: customized
Drying Temperature: 20℃~80℃

IKE conveyor mesh belt Bombax Flower dehydrator is automatic continuous drying equipment for large-scale dried Bombax Flower production. The Bombax Flower dehydrator production line can be equipped according to the user's requirements and the production demands. View Equipment →