◇◆ Product information
AIO-DF1500 series heat pump food dehydrator is specially designed for batch capacities of 800kg-1000kg. The integrated drying system is delivered as a complete set and perfectly fits the container loading.
AIO-DF1500GW food dehydrator using medium and low temperature drying, drying temperature: 50-80°C. Compared with AIO-DF1500T, it is more professional to dry fruits, vegetables, meat and other foods that need to be dried at medium and high temperatures. AIO-DF1500GW food dehydrator uses closed-loop heat pump technology, which is more energy-efficient than traditional dryers, and more environmentally friendly than ordinary open-loop heat pump dryers. The closed loop system provides more precise temperature and humidity control, ensuring that food is dried evenly and thoroughly.
What can it dry? It is suitable for drying a variety of foods including fruits, vegetables such as apples, bananas, mangoes, tomatoes, peppers, mushrooms, ginger, garlic, kale, etc., and meat such as beef jerky, chicken jerky, fish, pork jerky, biltong, etc. Some foods may need to be pre-treated to enhance their flavor before drying, please tell us your drying needs, and we will be more than happy to provide guidance, design, and manufacture customized drying systems. Just tell us your requirements!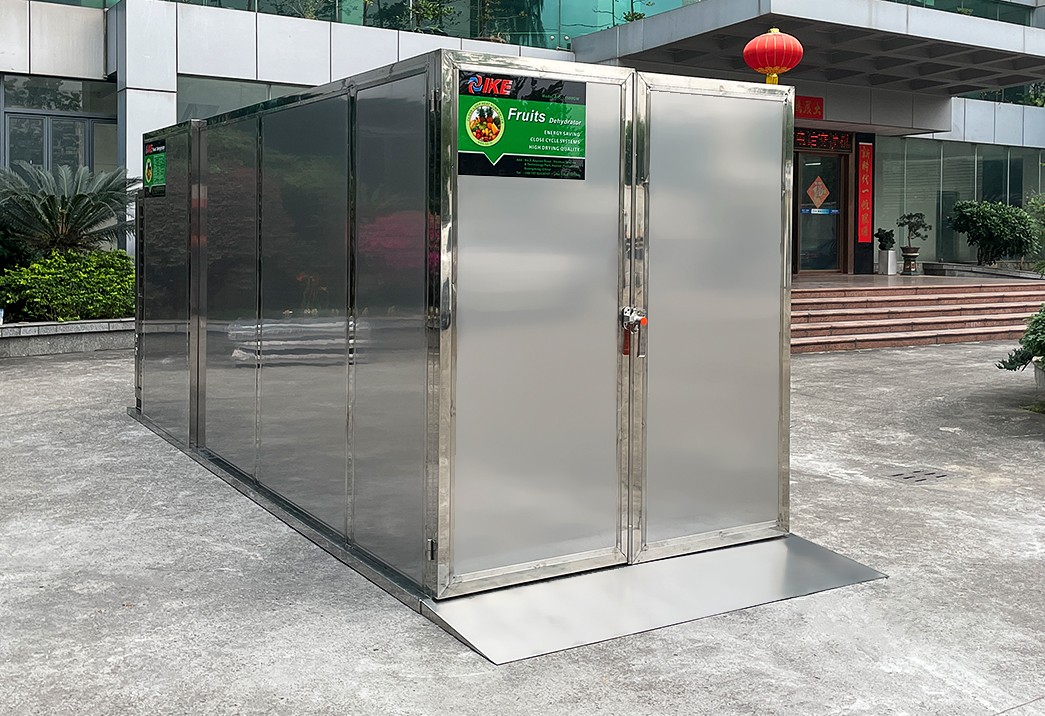 AIO-DF1500GW Heat Pump Food Dehydrator - Front view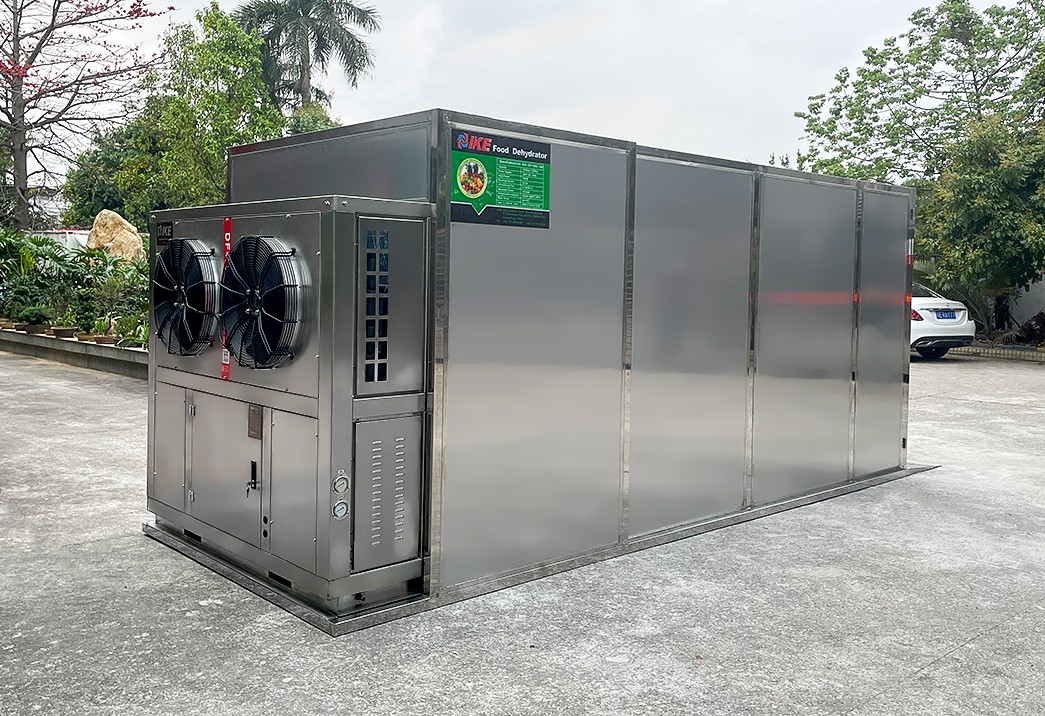 AIO-DF1500GW Heat Pump Food Dehydrator - Back view
SPECIFICATIONS FOR AIO-DF1500GW Heat Pump Food Dehydrator for Fruit and Vegetable

Materials

Stainless Steel

Capacity

800kg~1000kg per batch

Power Supply

380V/50Hz/60Hz

Power Input

15KW

Running Current

23.5A

Maximum Power

17.5KW

Dehydration Amount

40.0L/h (@65℃, 80%)

Working Temperature

50~80℃

Noise Level

≤75dB(A)

Controller

IKE smart color-touch-screen

Main Machine

DF-1500GW

Chamber Size(L*W*H)

6300*2000*2500mm

Payment terms

1, We can offer different pricing of FOB, CIF, and C&F.
2, For established customers, we will offer more favorable payment terms.

Shipping

1, We offer FOB Guangzhou and FOB Shenzhen to our customers.
2, We can also offer CIF to those in need.
3, We can also help in container consolidation.

Warranty

Two-year warranty after AIO-DF1500GW ship
◇◆ Detailed Images
AIO-DF1500GW heat pump food dehydrator consists of the main machine IKE DF-1500GW dehydrator and the insulated drying room as a whole unit, with the highest capacity and efficiency. It is designed for dry food and can be used with a variety of accessories according to your needs, such as stainless steel trays, plastic trays, drying racks, etc.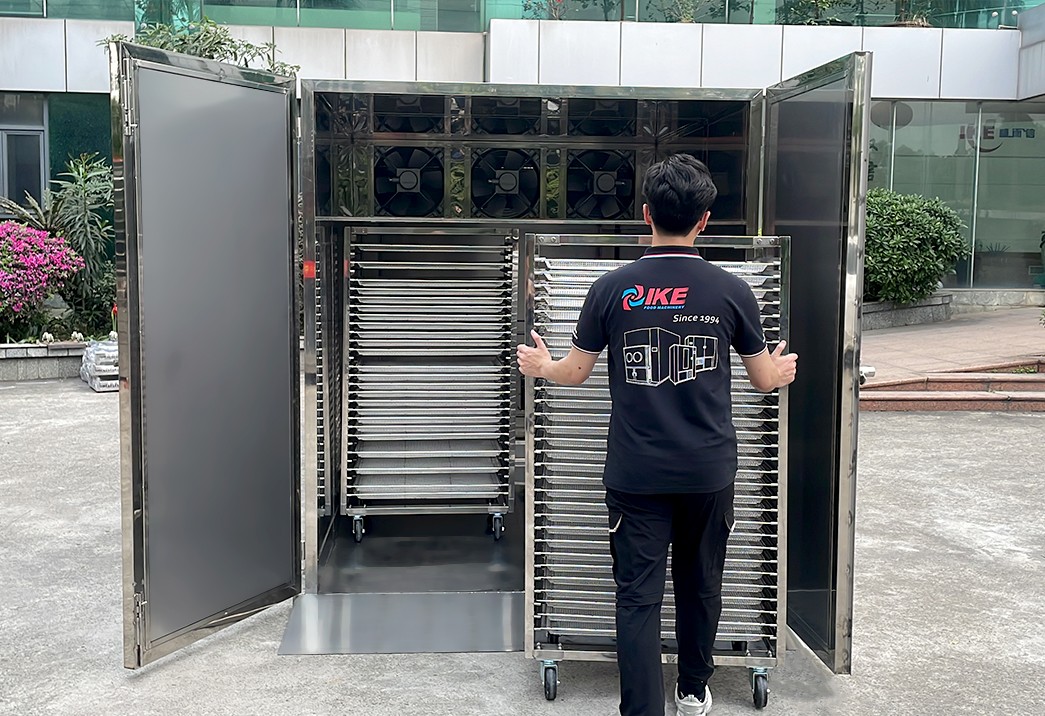 AIO-DF1500GW heat pump food dehydrator with stainless steel trolley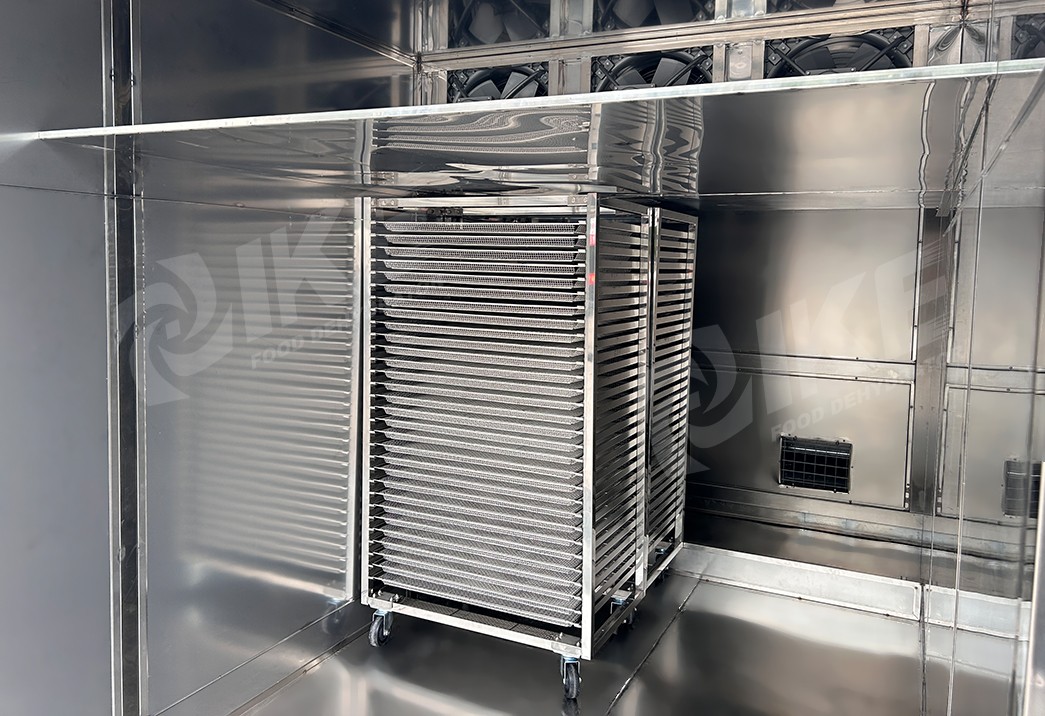 AIO-DF1500GW Heat Pump Food Dehydrator - inside view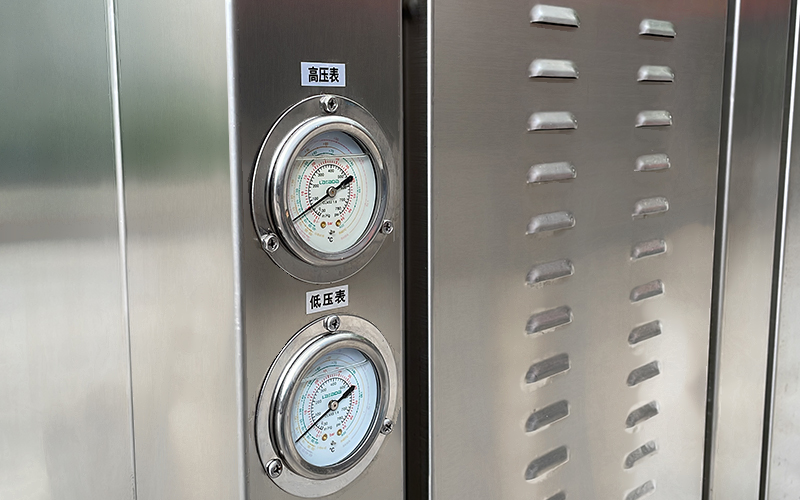 Refrigerant high-pressure meter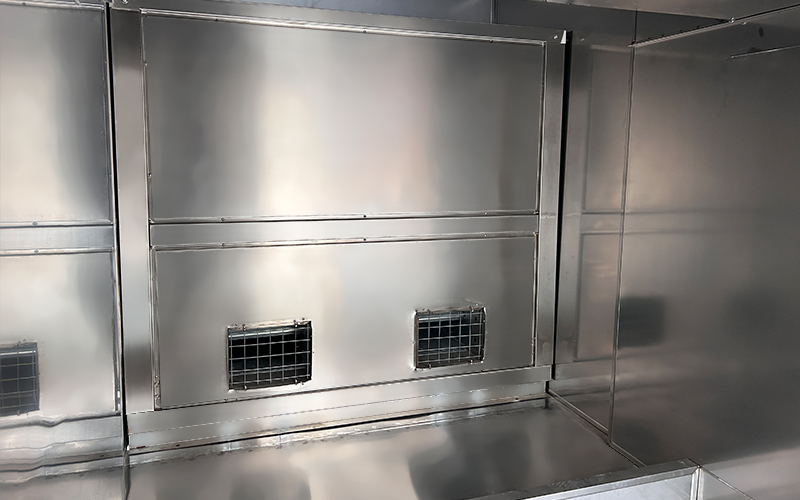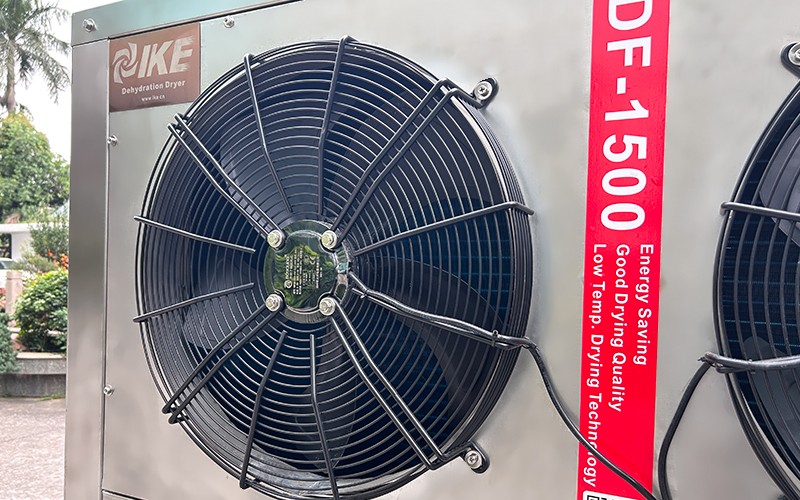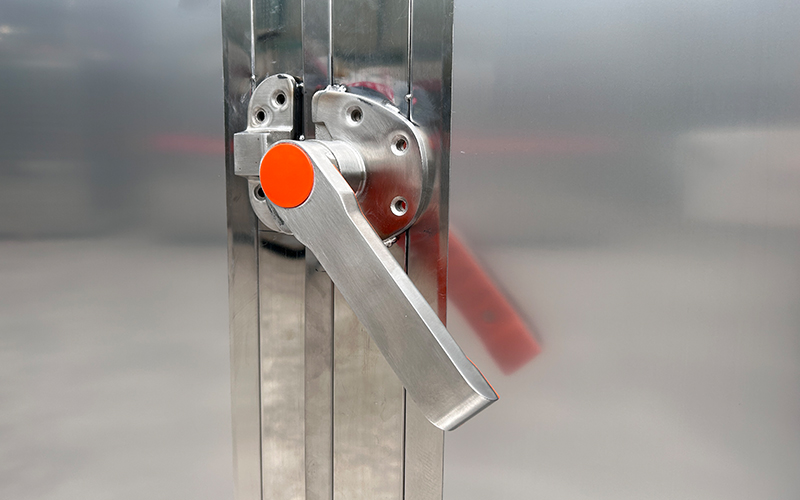 ◇◆ Main Features
IKE AIO-DF1500GW heat pump food dehydrator is a medium-capacity all-in-one drying system. It is suitable for drying various fruits, vegetables, meat and other foods. The whole system can be delivered in complete sets. Drying room is made of stainless steel insulation panel, which is easy to clean and stable. With effective air duct design, strong horizontal air ensures the uniform drying. Accessories can be customized on request.
1. Energy Efficiency. --Using a heat pump system that recirculates and reuses the heated air, which significantly reduces energy consumption compared to conventional dryers.
2. Even Drying. --AIO-DF series food dehydrator is with dual and reversible airflow design. With the function of blowers, stronger and more even hot air circulates inside the drying room, taking off the moisture of foods with the highest efficiency.
3. Precise Temperature and Humidity Control: --The heat pump food dehydrator provides excellent humidity control during the drying process, preventing excessive humidity in the drying chamber, thereby reducing the risk of food mold.
4. Gentle Drying. --mid-drying temperature setting for food will maintain its original color and fragrance, and keep its nutrition to the maximum extent.
5. No installation is required. --The AIO-DF food dehydrator has been installed and tested before delivery. After you receive the goods, you can directly connect to the electricity and use it.
6. Customized. It can be customized according to different applications and space requirements.
7. Environmental Friendliness. --Closed-loop air circulation inside a well-insulated drying chamber, only condensed water is discharged during the drying. Little energy loss, clean and hygienic.
Want a drying system that meets all your requirements at last? We have the best for you!
◇◆ Success Case
We have more than 600 successful cases worldwide. Contact us for more pictures and videos. -- READ MORE APPLICATION --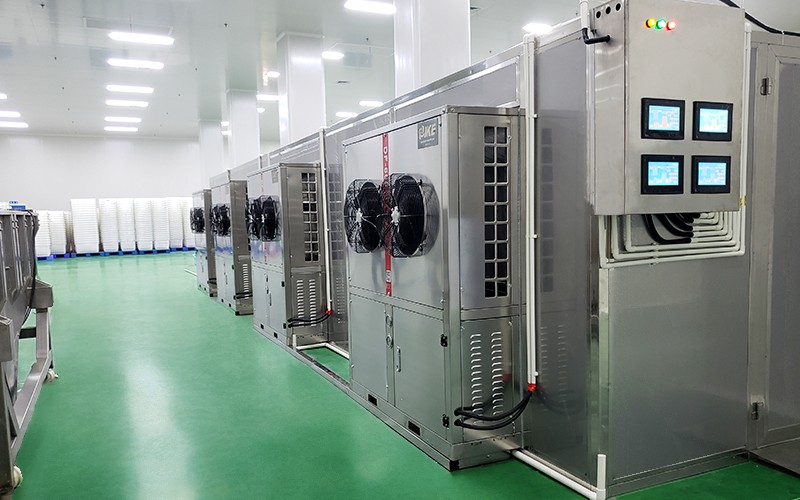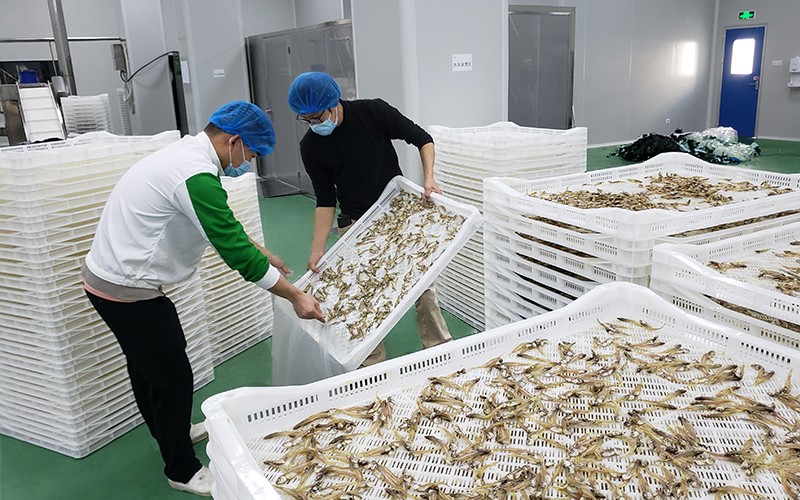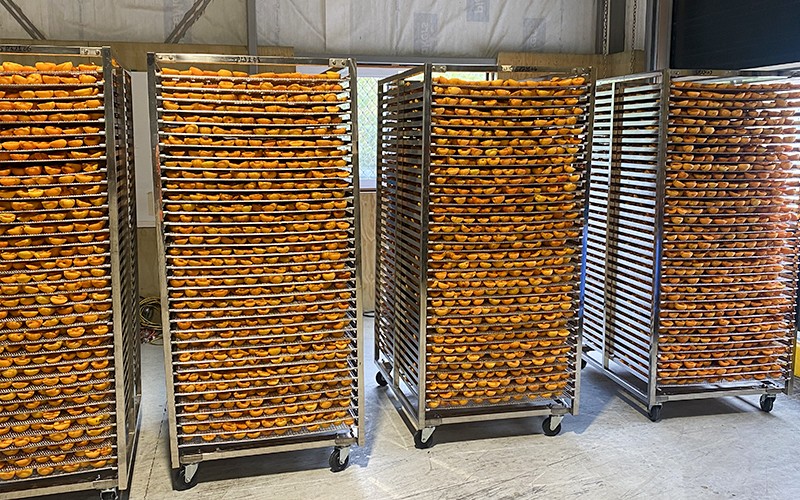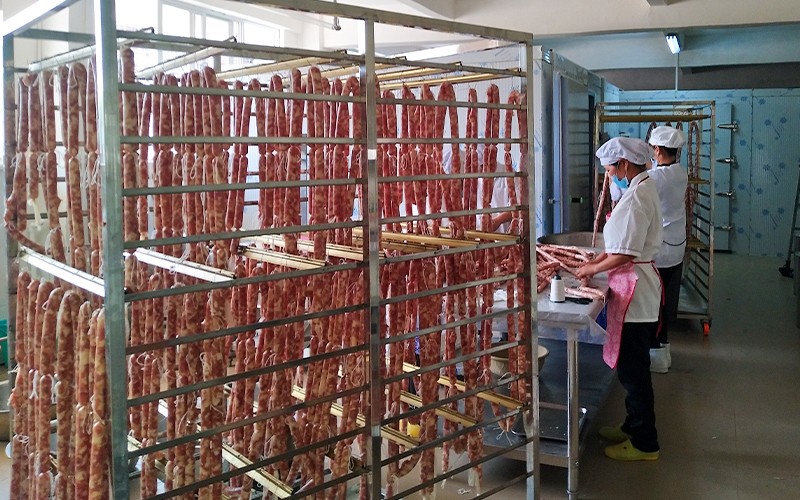 ◇◆ Packing and Shipping
AIO-DF1500GW heat pump food dehydrator can be directly loaded into the container during transportation. When you receive the machine, just connect it to the power supply and it is ready to use.